History
The Children's Home of York was established in 1865 to provide services to the orphans of the York County community. During the 1970's, the Agency needed to reengineer its service delivery to meet the needs of the children and youth served by providing smaller living situations.  The Agency responded by developing group homes and foster care. This was a movement felt throughout the human services industry.  Many children's homes across the country closed. They weren't able to connect to the new vision of how to help children in smaller, more family like settings.  Children's Home of York, through its strength of a visionary Board and an adaptable staff, reinvented itself.  It evolved.  Matter of fact, the Children's Home of York has never stopped its process of evolution.
The evolutionary process has taken the Agency from the simple form of an orphanage to that of a continuum of services ranging from Emergency Shelter for safe refuge for abused and neglected children to our state-of-the art Residential Treatment Facilities that offer therapeutic intervention to children, youth and their families who are working on very complicated mental health situations. In addition, there are a variety of capacity like schools and group homes, each focused on a single action….helping to improve the lives of children and families for the better.
 A calculated change in position at the Agency resulted in a continuum of care, providing specialized and focused care at different levels to meet the identified needs of the children and families served.  Delivering high quality services requires an enormous investment of time, talent and treasure.  With the support of a generous community, Children's Home of York invests in children, youth and families served by about $650,000 each year.
Without a doubt, the Children's Home of York continues to boldly evolve to respond to and meet the ever changing needs of children and their families. During the past five years new programs are now part of the continuum of care offered by the Agency:  the Girls' Center RTF, Bridges Partial Hospitalization Program and the progressive, evidenced based Multi-Dimensional Treatment Foster Care, evidence of the Agency's ability to evolve and remain a relevant, important part of child welfare serving South Central Pennsylvania.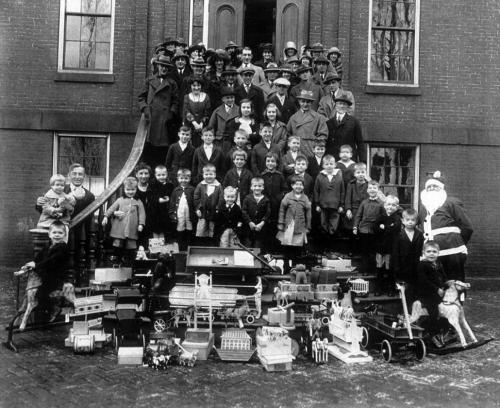 The children and staff on the steps of the Children's Home at Christmas 1923.